On Page Search Engine Optimization
Search engine optimization (SEO) is divided into two major parts:
On Page Search Engine Optimization and Off Page Search Engine Optimization
And proper SEO starts with on page optimization. And on the page search engine optimization referrers to the process of optimizing a website's page content, structure, code etc. In other words, on page SEO means optimization that can be done on the page of a website.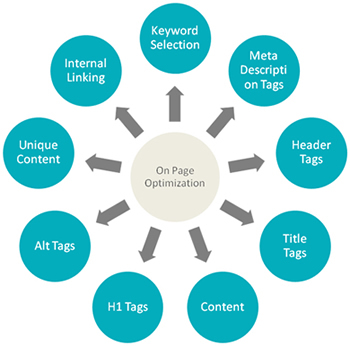 After recent search engines algorithm updates and changes on page optimization has become more important and powerful. Search engines give a lot of weight to on page SEO these days. And now this is the backbone of your total SEO campaign.
Your off page all optimization efforts can go in vain if your website's on page optimization is not done correctly. But good news is that this is something you can control and always improve. Correct on page SEO itself can help you to improve your search rankings dramatically. Even proper on page optimization can reduce your off page SEO effort and can save you money, time and energy.
Our on page and off page search engine optimization services
RootAxis is providing most effective on page optimization solutions in Australia with affordable price. We will optimize your website from every possible way to improve your search ranking and traffic.
top
Existing Website Analysis
Domain Analysis & Statistic
Social Media Analysis & Statistic
All Indexed Pages Statistic
Code/HTML Problem Identification
Total Backlink Analysis With Anchor Text
Total Backlink Distribution Structure Analysis
Website Rankings Over Last 6 Months
Top 10 Competitor Analysis
Competitors Comparison
Competitors Meta Analysis
Competitors Total Backlink Analysis
Competitors Recent Backlink Analysis
top
Keyword Research & Analysis
Identifying Best Primary Keyword
Identifying Two Secondary Keywords
Identifying Additional Two Potential Keywords
Meta Tags Optimization
Page Title Optimization for Primary Keyword
Meta Description Optimization for Primary & Secondary Keywords
Meta Description Optimization for High Click Through Rate (CTR)
Meta Keywords Optimization for Primary, Secondary & Potential Keywords
top
URL & Site Structure Optimization
Optimizing URL for Primary Keyword
Canonical URL Check & Canonicalization
Content Optimization
Unique Content Development
Optimizing Content for Primary, Secondary & Potential Keywords
Keyword Density Optimization
Keyword Stuffing Check
Duplicate Content Check for Entire Website
Spelling Check for Entire Website
top
Image Optimization
Image File Name Optimization
Image Alt Tag Optimization
Image File Size Optimization
Head Optimization
H1 Optimization for Primary Keywords
H2 Optimization for Primary & Secondary Keywords
H3 Optimization for Secondary Keywords
top
Internal Link Optimization
Internal Link Creation
Broken Link Check & Fix or Redirection (if applicable)
Orphan Link Check & Fix or Redirection (if applicable)
Link Structure Optimization
www & non-www Duplicate Issue Configuration
Trailing Slash Duplicate Issue Configuration
301 URL Redirection
top
.txt Optimization
Robots.txt Optimization
URLList.txt Optimization
Sitemap Optimization
.xml Sitemap Creation for Search Engines
Sitemap Submission to Search Engines
HTML Sitemap Creation for Visitors
top
Analytics & Webmaster Setup
Google Analytics Setup & Configuration
Bing Analytics Setup & Configuration
Google Webmaster Tool Setup & Configuration
404 Setup
Create 404 for Error Pages
Redirect Error Pages to 404 Page
top
Loading Time Optimization
Page Loading Speed Optimization
Browser Cache Configuration
Increase Page Loading Score Points
Validation Optimization
Html Validation Check & Fix
CSS Validation Check & Fix
.htaccess File Configuration
RSS Creation for Syndication
Browser Compatibility Check
Social Sharing Icon Setup
top